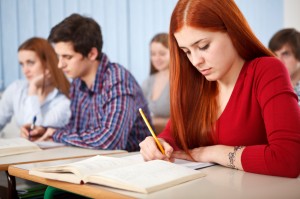 Students appear for the SAT exam with one goal in mind – 'they want to somehow excel in the test' and 'get admission in a good college'. Now, this goal is realistic but what is even more important is to acknowledge the nature of SAT Questions and its significance.
SAT Math test, English Test, SAT general test, and any other SAT subject test do not consider specific syllabi because the tests include questions about anything and everything. It is more like 'discovering a new subject for the first time' or even better developing your interest level in a 'not so interesting' subject.
SAT prepares the student with the robust college level syllabi and more so a comprehensive approach at studying varied subject areas with a high intensity approach. SAT Questions and Answers prepare the students with the much appreciated passion for academics that helps them sit through a 4 hour lecture in the college.
The idea is that students who prepare for the SAT test will eventually gain more than those who do not prepare for the SAT. This is because of the exhaustive nature of the SAT syllabus that brings together intelligence, creativity and passion to succeed in college.
SAT by itself is not just a credential but it is much more than that because the SAT score card will prove to be an advantage to you every time you apply for a MBA scholarship, a new job, or even an internship for that matter. There are many advantages and doors to your future career success may open easily, all you have to do is give the SAT test your best shot! Good Luck!