High school is a critical learning phase in education. You develop into a fully fledged independent learner during this tenure and go beyond mere comprehension of topics to analyze the matter and understand the world around you.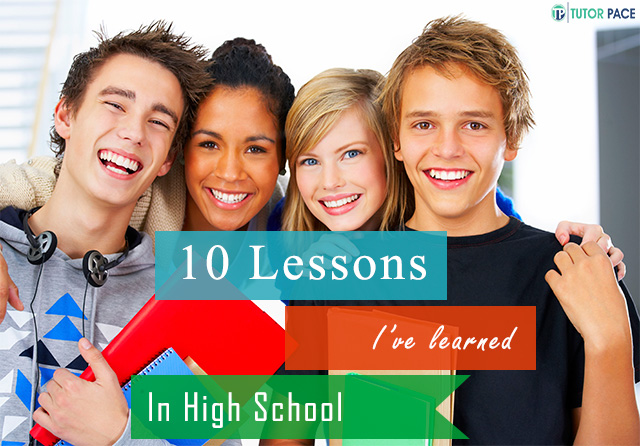 Here are 10 valuable lessons you learn through high school education.
1. Importance of attendance
Making your presence in the class is the great part of the game. It also constitutes a good percentage of your grades. When it develops into a habit, your presence in the work place makes significant difference in your performance and helps you in winning promotions and bonus and making your contributions in the work areas worthy and notable.
7 Practical Study Tips For Acing High School #Exams http://t.co/Fd7RhFtm1m #bakctoschool pic.twitter.com/9euVanMsIE

— Tutor Pace (@TutorPace) September 3, 2015
2. Being punctual
More than being present, it is better to be punctual. Anyone who is punctual is acclaimed high and a person who comes late becomes an object of observation for teachers and students. It is good to give up tardiness and make punctuality as one of your essential values.
3. Putting in hard work
Hard work always pays off in your presentations, assignments or homework. Just skimming through night studies or superficial learning of the subject matter will not fetch fineness and perfection in your school work and as a high school student you will not win the grades aspired by you. Put your heart and soul in whatever you do and you can get the best for it. Seeking outside help like online tutoring, referring to grading guides for extra edge are skills you develop during high school years. This will continue through your life and career for success.
Avail #HighSchool #Calculus Tutors To Approach Calculus Exam With More Confidence http://t.co/ga67ms7qwL pic.twitter.com/ZsgbVWdmS1

— Tutor Pace (@TutorPace) September 3, 2015
4. Socializing is important
High school offers lots of opportunities for socializing and there need not be any limit for keeping friends with your peers or others and can be intimate with them as well. It develops confidence and understanding of the world around you. Participate in social, academic and sports clubs as much as possible and make the most of your socializing.
5. Know your attitudes and aptitudes
While learning in high school you can have an understanding of what you are passionate about and what goals you want to achieve in academics and other areas. You can estimate what job you want to pursue and how you would go ahead with it. You have an opportunity to know about yourself without simply following the examples of others.
High School Statistics Tutors To Help You Score High In Exams http://t.co/dSlWf2VwRp#backtoschoolpic.twitter.com/pM5q3X8qIM

— Tutor Pace (@TutorPace) September 3, 2015
6. Be on good terms with teacher
Teachers are your guides and you need to be in their good books for getting right directions from them. When you are continuously keeping in touch with them, they understand that you value their time and try to see things in your way. Be attentive in the class, participate and ask questions. Attend office hours. All these help you make a good impression about you upon the teachers. This comes a great way when you pursue a career where your employer gets impressed by you at the very first sight.
7. Understand what kind of learner you are
Learning styles differ and you need to know what kind of learner you are. Experiment with various learning styles and find out which one comes naturally to you. Learning at your pace and style helps you comprehend the subjects well and go more than that to explore the subjects. This also helps you in your work place with critical thinking abilities and ability to navigate information.
The Best #HighSchool Study Tips http://t.co/uKOzqRJg6x #BackToSchool pic.twitter.com/6espRpD9Sg

— Tutor Pace (@TutorPace) September 3, 2015
8. Study in company
Studying with a buddy helps you greatly in getting constructive criticisms while rehearsing for a presentation or debate or oral exams. You get different insights about topics as well. Further, it is good cheers to make company and enjoy learning as a joyous process.
9. Working in groups
Team work is the essence of today's work scenario in any career. Working in groups at high school level for a project, discussion or debate definitely brings forth good team spirit, co ordination, empathetic values in you. It even can develop a patient approach towards others and things. Lots of opportunities are available for you to pick up team work in high school which shapes your future requisite in advance.
Read more – How to eliminate high school math tension through homeschooling
10. Thinking critically
You are starting your journey into adult world by the time you reach high school. Now, it is time for you to understand and judge the world around you. It is not simple understanding of the subject that is expected of you but you need to go beyond that to critically examine what you learn. This critical thinking ability comes a great way in your future assignments in college and career.
Tutor Pace Launches #DiagnosticTest – A Free Online #Learning #Tool | PRUnderground http://t.co/7kPRqAASjj #mathhelp

— Tutor Pace (@TutorPace) September 3, 2015
Conclusion
Thus, high school learning is crucial promoting good opportunities in you to learn valuable lessons for life, future studies and career. Make use of the precious time during this phase and cultivate life skills that come a long way in your life.