There are so many phenomena occurring around us day to day that bewilder us when we try to explain the reason behind them. The stretching of a spring is one such occurrence and elasticity has long fascinated many! When an object is stretched, the property that lets it regain its shape is called elasticity and this property varies from material to material. While a rubber band can stretch to a great extent, a plastic item can't stretch as much and this is due to the elasticity of both the materials. The fundamental law that governs this fascinating phenomenon is the Hooke's Law. Students often find it interesting and yet it is not as easy to understand as many consider it to be. Most students are turning to an online physics tutor when it comes to topics such as this where they require complete understanding to apply it. Read on to learn about Hooke's law and its applications.
Hooke's Law – an overview
The force required to extend a spring or compress it to a certain distance say Y is directly proportional to the distance. Force (F) = -kY where k represents a constant that is attributable to the stiffness of the spring. This law is an approximation that is quite accurate for many solids and is applied extensively across many branches of science. Interestingly, the physicist after whom the law is named first stated the law in the form of an anagram and released its answer only later!
In its general form, the Law is compatible with Newton's Laws of static equilibrium as well. However, when an object is stretched beyond its elasticity, there will be noticeable deviations from the Hooke's Law. Thus, understanding this law requires extra effort and mere classroom sessions may not suffice. This is why students turn towards an online tutor or online physics homework help for assistance.
Another interesting representation of Hooke's Law is using Stress and Strain. While stress is the force on a material as a result of an external force, strain is the resultant deformation as a result of the stress the object experiences. The Young's modulus represents the Hooke's Law in terms of stress and strain. Assignments are quite popular in this area and seeking online physics assignment help is a good idea to get a clear understanding of the topic and mastering it.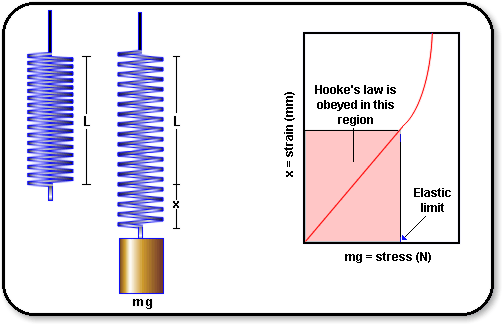 Applications of Hooke's Law
There are umpteen practical applications to this important law and a few of the things that we see around built on this principle are:
BB gun
Rubber tipped dart gun
Springs of the wheels of a vehicle
Springs used in transportation, military equipment and so on.
There are many more such interesting applications to this law and these are just a few examples! In fact, students find it very interesting to try out the applications of this law and it is often a favorite project amongst students.
Summary
Hooke's law deals with an important and fundamental concept in physics – elasticity. With its wide spread applications in various fields, it is imperative that students master this tricky yet basic concept and they can do so with expert help from online tutoring platforms.