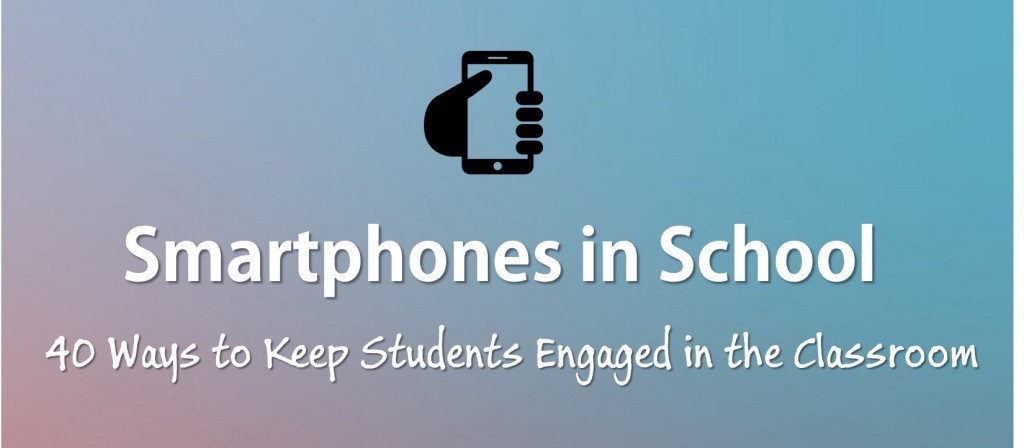 Did you know that you could indeed use your smartphone at school for purposes other than entertainment? Yeah, you can! There are umpteen uses for your smartphones everywhere and it may come as a surprise to you that they can be used at your school and can be used to help you learn better! Read on to learn 40 different uses of smartphones at school.
Fact Checking
Yep! You can cross check and verify facts with your handy smartphone and your teachers too can do the same now. Quick and easy!
Click pictures for educational purposes of course
Use pictures taken with your mobile for the purpose of illustration or presentation when taking seminars and so on.
Record videos and use them in projects and assignments
Experiments can be recorded by means of videos and they can be used in experiments and presentations for better impact.
Read To Know Top 13 #iPad #Educational #Apps For Kids http://t.co/c6NhHOQilv pic.twitter.com/OW3DcOg9Kq

— Tutor Pace (@TutorPace) October 7, 2015
Conduct tests and experiments
You can now conduct quizzes and tests with your mobile. There are many mobile apps that let students prepare quizzes and play against one another. This is specifically useful in the case of studies and research wherein it is important to record real time data. Teachers too can use it to gauge the knowledge level of their students.
Listen to the news
With subjects like economics and finance, it is important to stay abreast of happenings worldwide and reading the news is very important for that. Many teachers incorporate this into their teaching styles. Even tutors on online tutoring platforms do so to ensure effective learning of their students.
Learn word meanings with the dictionary
Whenever a student comes across a particularly difficult word, instead of having to ask the teacher, they may simply look up the dictionary on their mobiles.
Look up unfamiliar words in a foreign tongue
Similarly, the smartphone may be used to translate foreign words that students encounter in the course of their study.
9 Best #Math #Apps For KIDS Of All Ages http://t.co/mo47WIauFc pic.twitter.com/SRA5MAVJ6O

— Tutor Pace (@TutorPace) August 13, 2015
Stay organized with the Calendar
Enter deadlines and schedules in your calendar to receive alerts and ensure that there are no delays in submissions.
Jot down ideas
Don't have a paper and pen in hand but   have a brilliant   idea? Jot it down on your smartphone and use it later!
Music is the healer of the soul
Listening to music (not necessarily songs) has been proven to help studies effectively and students can now do so during breaks or before exams to get into the right frame of mind with their smartphones.
A picture is worth a 1000 words
In case you are visual learner, learning by means of pictures and images can come in extremely handy! Create and use mind maps and flash cards on your smartphones for better learning.
Review before exams
Quickly scroll through your material and review what you've learnt before exams with mind maps, index cards, flash cards, etc. Online tutors recommend a variety of different apps that help students revise in a jiffy and these have proven to be very useful.
Top 10 Mobile #Apps For #College #Students In 2015 https://t.co/dfSoxvSZdv

— Tutor Pace (@TutorPace) November 9, 2015
Manage time with a stopwatch/timer
A stopwatch/timer can help you prepare better for your presentation or debate or any event that happens to be timed.
Enjoy reading with eBooks
Carry an entire library of books within the palm of your hand with your smartphone and read as many eBooks as you want!
Audio Recorders help you learn better
Voice recorders can be employed to record sessions and explanations and these can be reviewed at a later time for better clarity. One can do so while availing assignment help from tutors too and these can come in to be useful during revisions.
Find out about extra subject material
With a smartphone and an internet connection, it is easy to dig through the plethora of resources available and find references and texts that are relevant to the topic of study.
15 Study #Apps That Make Hassle Free #Learning For Students https://t.co/ra5v6ZARvU via @blogdash

— Tutor Pace (@TutorPace) November 9, 2015
Use your camera for scanning documents
Document scanning is ever so easy with your camera! In fact, if you are assigned work at class, you can even deliver it via scanning if your teacher approves of it!
Use the scientific calculator
This is one of the most useful tools in a smartphone. It has a scientific calculator and does away with the need for you to bring one to class!
Editing videos
Edit your videos and add effects, text and what not with just your smartphone in hand! You can make your presentation much more interesting with such means.
Top 5 #Education #Apps To Learn #Science With Ease https://t.co/UdzqGRQfjj

— Tutor Pace (@TutorPace) November 9, 2015
Editing pictures
It is essentially the same as above, only you can edit pictures too!
Publish blogs
Does your class have a blog? Publish in it with the help of your smartphone! This will not only help improve your presentation and writing skills, it will also help you become popular in class.
Check out who is visiting your blog
Google Analytics is a cool way of tracking visitors to your blog and this helps you check how popular your blog is in your class/school.
Present better
Making presentations is ever so easy with the help of your smartphone. You can simply store your presentation online or on your mobile and project it!
Use your smartphone as a remote
While making a presentation, if you wish to switch between materials, you can make use of apps that help you do so with your mobile.
Communication is the key
In case you need to communicate with your teachers or admin staff, you can simply send them a text or use any messenger app to do so with your smartphone.
Learn and store a variety of formulae
Are science and math too difficult for you? Learn and store formulae with your mobile using apps that let you do so. In fact, this can assist in your homework too. You can look up stuff on your smartphone first and then look for homework help online in case you require further assistance.
Monitor noise levels in class
If you are the monitor and are in charge of the class, you would most certainly need this! You can now check the decibel levels in your class with a db meter and let your classmates know if they are loud and spare yourselves reprimand from teachers.
Notify and update periodically
Notifications and updates can be sent using smartphone apps periodically to students, parents and teachers and this serves multiple purposes.
Use maps to mark class locations
Students who are new to the region will find this very useful especially in colleges where the classrooms are located blocks and wings away. Just marking the location of the class rooms on Google Maps would be very helpful.
Take to the Social Media Networks
You can now connect with your Twitter, Facebook and Google Plus accounts with your handy smartphone. Apart from other uses, these have educational uses and you can follow SM networks for educational purposes too.
Improve diction and vocabulary
Whether you are learning a foreign language or a native one, you can use your smartphone to learn new words, their meanings and uses and master the languages with ease.
Keep track of your attendance
You can now monitor your attendance records with your smartphone. Yep, it's as easy as that!
Monitor and assess the work of students
This one is for teachers! Keeping track of the performance of students, their project work and course work is ever so easy with smartphones and many teachers are employing them to good use.
You don't need a watch to check time
The mobile phone has become the watch of today and people check it to tell time.
Beat boredom
The smartphone has a truckload of features to keep students interested in academics and there is simply no need for students to worry about boredom. In fact, many teachers are coming up with various ways of using the smartphone to keep their students engaged in classes.
Notes sharing
As stated above, teachers are employing the mobile phone to make studies easier for students and sharing of notes using the smartphone is one way to do so. Teachers share notes via this medium as opposed to handing out bulky photocopies.
Interactive whiteboards
There are many mobile apps such as digital whiteboards and interactive whiteboards that have a lot of uses for teachers as well as students.
Monitor weather to schedule outdoor lessons
In case a teacher wishes to schedule outdoor activities or lessons, they can do so after checking the weather using apps on mobile phones.
Gauge productivity
This is useful for both teachers and students for they can check out the time spent on an activity.
Have fun
Students can now play and learn side by side! Yep, there are many games that are too much fun but also educational.
Summary
Smartphones have penetrated aspects of our lives and we can employ them to good use in the educational sector as well. The above 40 ways illustrate how students can use the smartphone to manage their schedules and learn effectively.